Website Development :: Victims' Advocacy
Lynn Media Group launches new website in evening fire drill effort for family at the center of a northeastern state Supreme Court decision that altered state law.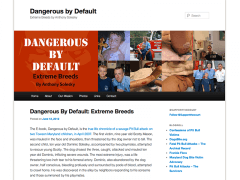 DangerousByDefault.com – Just when Maryland legislators needed access to an ebook created by a father whose son's case is at the center of a landmark Maryland Appeals Court ruling, Scribd's poorly designed "content filter" essentially began blocking the ebook from viewing. Upon learning of Scribd's inexplicable new content filter, Lynn Media Group acted fast to not only pull it down from Scribd but to relaunch the whole website, formerly under a .NET domain name, under the more common consumer .COM domain name.
In a matter of hours, after exchanging "language" with Scribd's legal department, Lynn Media Group had transferred all of the written and photographic materials from the .NET website over to the new domain and new website design based upon a modified version of the Twenty Eleven theme by WordPress. Furthermore, within the evening time span, the .NET address began forwarding to the new .COM address as well, stopping anyone from reaching the old website that still pointed to the newly voided Scribd link.
In addition to Scribd's flawed "content filter" the family was also burdened by the managed website hosting company that hosted the .NET website. Even after phone calls to the company, the family was unable to login to their own website to update the one page that was still linking to the newly invalidated Scribd link. Lynn Media Group was forced to go above the managed website hosting company by forwarding the .NET to the .COM address at the domain name registrar level.
Both Scribd and the managed website hosting company critically failed a client who needed very basic help fast. Scribd's track record with user's content and privacy is so poor that Lynn Media Group can't help but emphasize this. Now this family, set up in a WordPress.org environment, has no dependencies on third party entities. The speed of the website and domain name transfer process occurred in about a 4-hour period and includes communications sent to third parties attempting to rectify the situation.