Website Development :: Charity
Lynn Media Group develops a new website to help a remarkable young boy meet his next challenge: changing New York state dog bite law.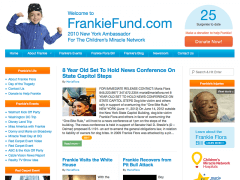 frankiefund.com – Frankie Flora is an extraordinary 8-year old boy who survived a near fatal pit bull mauling in 2009 and went on to become the New York Ambassador for the Children's Miracle Network in 2010. Part of being the ambassador landed him at the White House and a host of other star studded events. Since the April 16, 2009 pit bull attack, Frankie has undergone 25 reconstructive surgeries. He continues to take part in and promote the Children's Miracle Network even though his year term as the ambassador has ended.
In June of 2012, on the steps of the New York State Capitol Building, Frankie held a news conference for yet another huge endeavor: To once and for all eliminate the One Free Bite rule in the state of New York.
Upon learning of the news conference, Lynn Media Group began working with Frankie's mother, Maria Flora, to help build a website that could support Frankie's goal of overhauling New York's dog bite law that Frankie and countless others have fallen victim to. The solution included a customized WordPress website with plugins that best suited the site's needs. The new website was unveiled in July 2012. The campaign effort to overhaul the One Free Bite rule is expected to start picking up steam in late Fall.
Given the modest budget and tight time frame, Lynn Media Group opted to customize the Magazine Basic theme by Bavotasan.com. The theme is a good fit and will allow plenty of room to grow as Frankie takes on this challenging statewide reform.