Website Design :: Political Parody
Lynn Media Group creates website design for an original Austin-based political parody online television series, Lizzie Luvs Perry.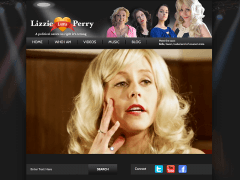 lizzieluvsperry.com – Lizzie Luvs Perry — a political satire so "right" it's wrong — is an online political parody television series featuring Lizzie and her best ex-sorority sisters as they attempt to out "right wing" each other. Marc Spiegel of Austin, Texas, directed and co-authored the series. The eleven episode series bears titles such as, "Taking Away Our Platinum Cards" and "Ronald Reagan Pie" and "Birth Control" and more.
The star character of the series is Elizabeth "Lizzy" Hamilton who was born on the same day as Governor Rick Perry. Though a daughter of yuppie liberal parents, Lizzy became a Right Wing Conservative who became compelled to carry out a sacred mission from God to spread the conservative agenda and to convert the unconverted. The series also has an original music single, "Rick Perry for President" with words and music by Austin, Texas outlaw country singer and songwriter Jeff Warren Johnston.
To stay within the modest budget, Lynn Media Group opted to customize the Gigawatt video blog theme for WordPress by Obox Design when creating the website design for  Lizzie Luvs Perry. The Gigawatt theme offers many video enhancements, such as oEmbed Support, which automatically captures video embed code, a 940 pixel wide view port, a standard blog (not always available in video blog themes) and built-in responsive design. Lynn Media Group also developed the Lizzie Luvs Perry logo design.