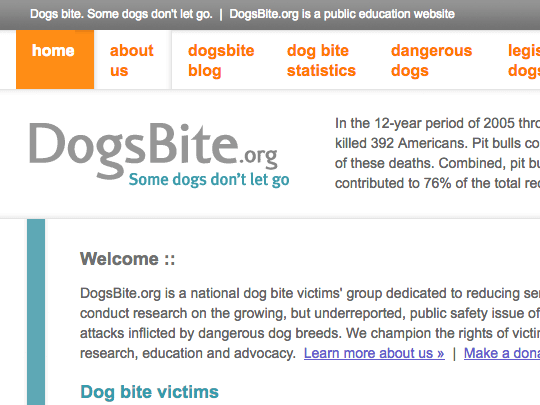 Website Design :: Nonprofit
Dogsbite.org – DogsBite.org is a public education website about dangerous dogs. The founder of Lynn Media Group, Colleen Lynn, developed the website in 2007 after being attacked by a leashed pit bull while on a public sidewalk near her home. The website is now over 2,200 pages in depth and is frequented by dog bite victims, attorneys, doctors, lawmakers and researchers. Data from DogsBite.org is regularly cited in news articles. The group became a 501(c)(3) tax-exempt public charity organization in 2011.
The success of DogsBite.org, which garners nearly a quarter of a million impressions per month, whose data has been cited in a peer-reviewed scientific publication and whose participation in a landmark Maryland appeals case helped moved the high court to modify state law is rooted in four factors. The website: 1.) Defines a national public health issue, 2.) Tracks significant victim data concerning this issue, 3.) Supplies solutions to this issue and, 3.) Provides ongoing education through its blog.
Mobile Layouts ::
Desktop Layouts ::